RPKI TOOLS
Krill is a free, open source RPKI Certificate Authority that lets you run delegated RPKI under one or multiple Regional Internet Registries (RIRs). Through its built-in publication server, Krill can publish Route Origin Authorisations (ROAs) on your own servers or with a third party.
Delegated RPKI, Simplified
Krill offers several advantages over hosted RPKI offered by the RIRs. It is a great solution when you have address space from multiple RIRs, as you can manage ROAs for all global resources seamlessly within one integrated system. Krill is also ideal if you need to be able to delegate RPKI to customers or different business units, so that they can manage ROAs themselves.
Get Started with Ease
Written in the Rust programming language, Krill is extremely robust and lightweight, letting you run it on minimalist hardware. Getting started with Krill is simple. From a fresh system you can build, configure and run Krill with just seven commands. Debian and Ubuntu users can also download, install and run a package from our package repository.
Krill is available as a 1-Click App through the DigitalOcean Marketplace and the AWS Marketplace. It provides a fully integrated solution that includes Krill, NGINX, Rsyncd, Docker, TLS certificate management and Prometheus endpoints. All the elements are tied together by Krill Manager, which offers a setup wizard, backups, log streaming and automated updates. A dual CPU, 2GB RAM virtual machine is fine for most workloads, but you can scale up in a few simple steps.
Powerful ROA Management
Through an intuitive user interface, Krill lets you create and maintain Route Origin Authorisations (ROAs) based on the BGP announcements that are made with your certified address space. This makes it incredibly easy to manage ROAs.
Krill will tell you what the effect is of all ROAs that you created, indicating which BGP announcements are authorised and which ones are not. This ensures your ROAs accurately reflect your intended routing.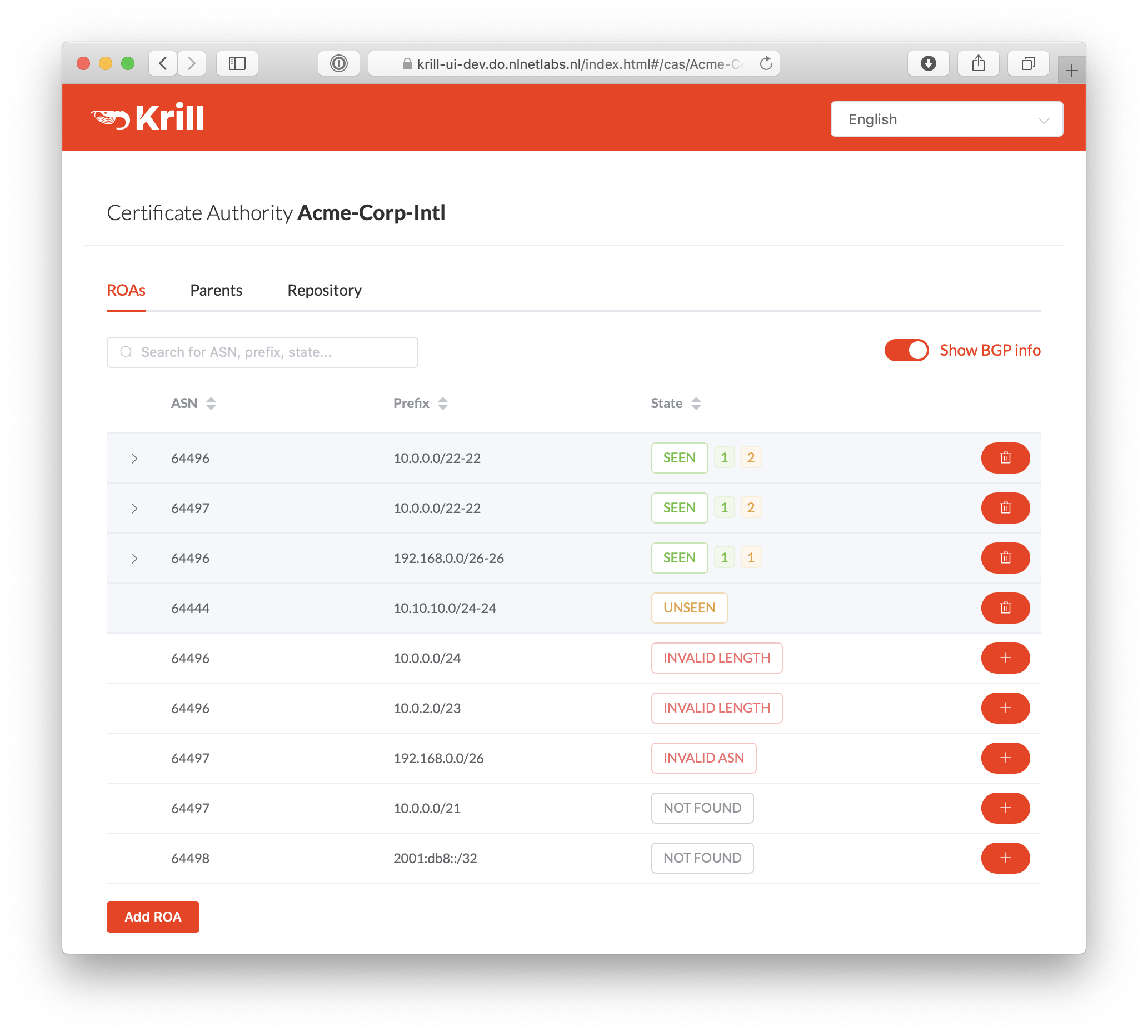 For scripting and automation, a command line interface and API are also available.
Professional Services
Professional support services are available for Krill, Routinator and RTRTR, offering premium support, consultancy hours, early security warnings under non-disclosure, as well as priority feature requests.
Krill is licensed under the Mozilla Public License 2.0. All libraries that are built to support the RPKI project are licensed under the BSD 3-Clause License.